AUTOMATIC PRESS FOR FRESH SHORT-CUT PASTA MOD. FPT175/D520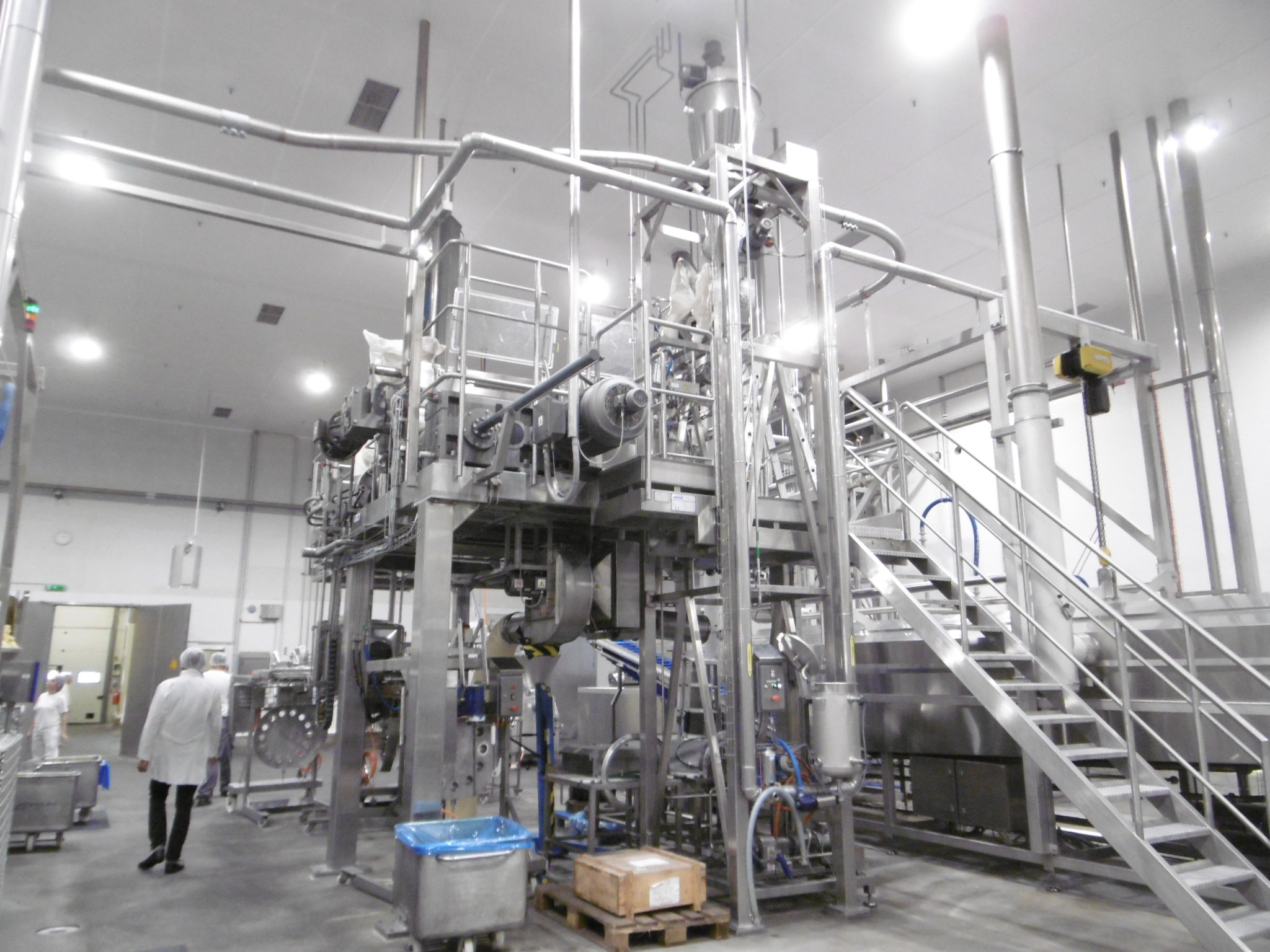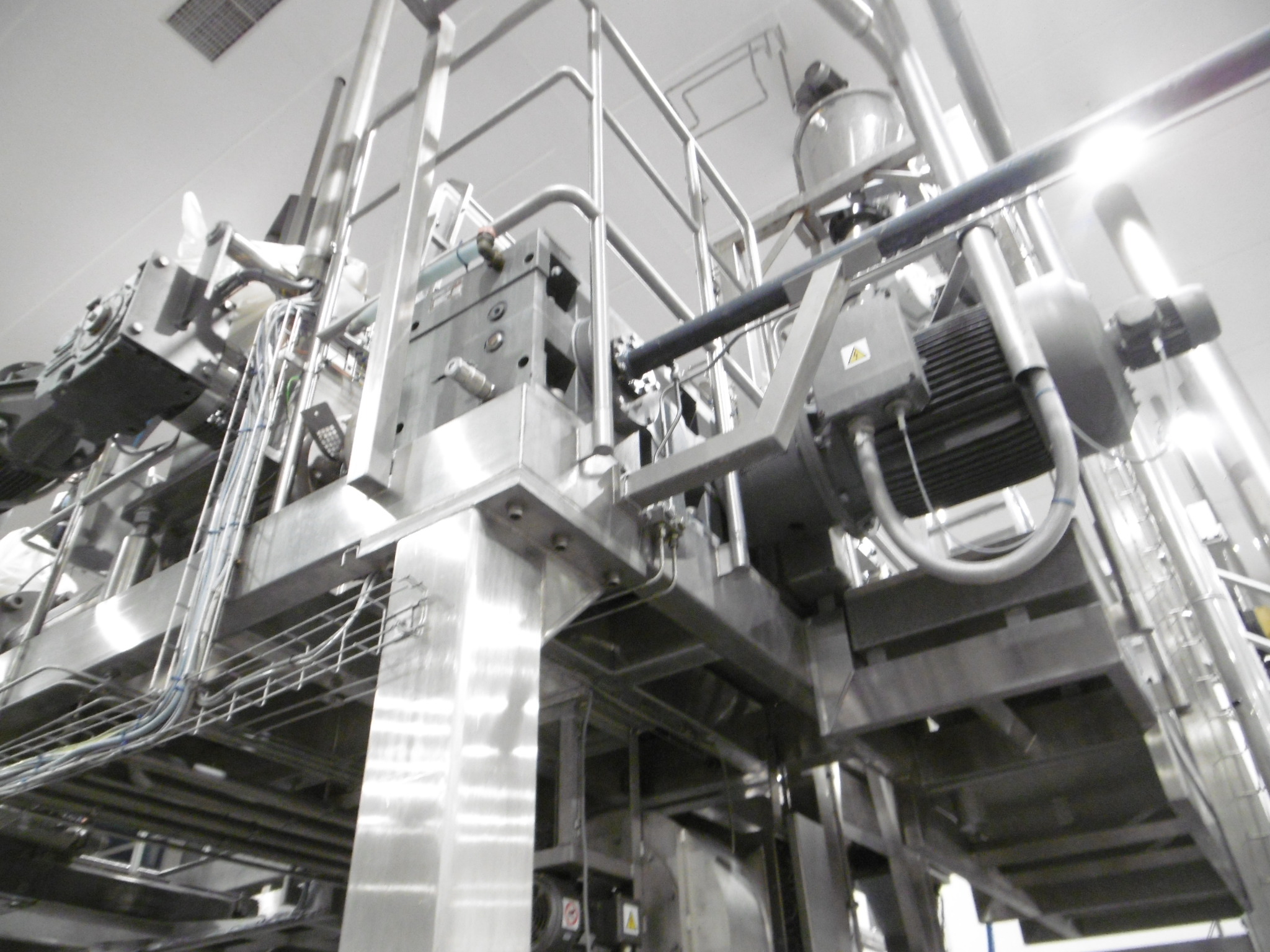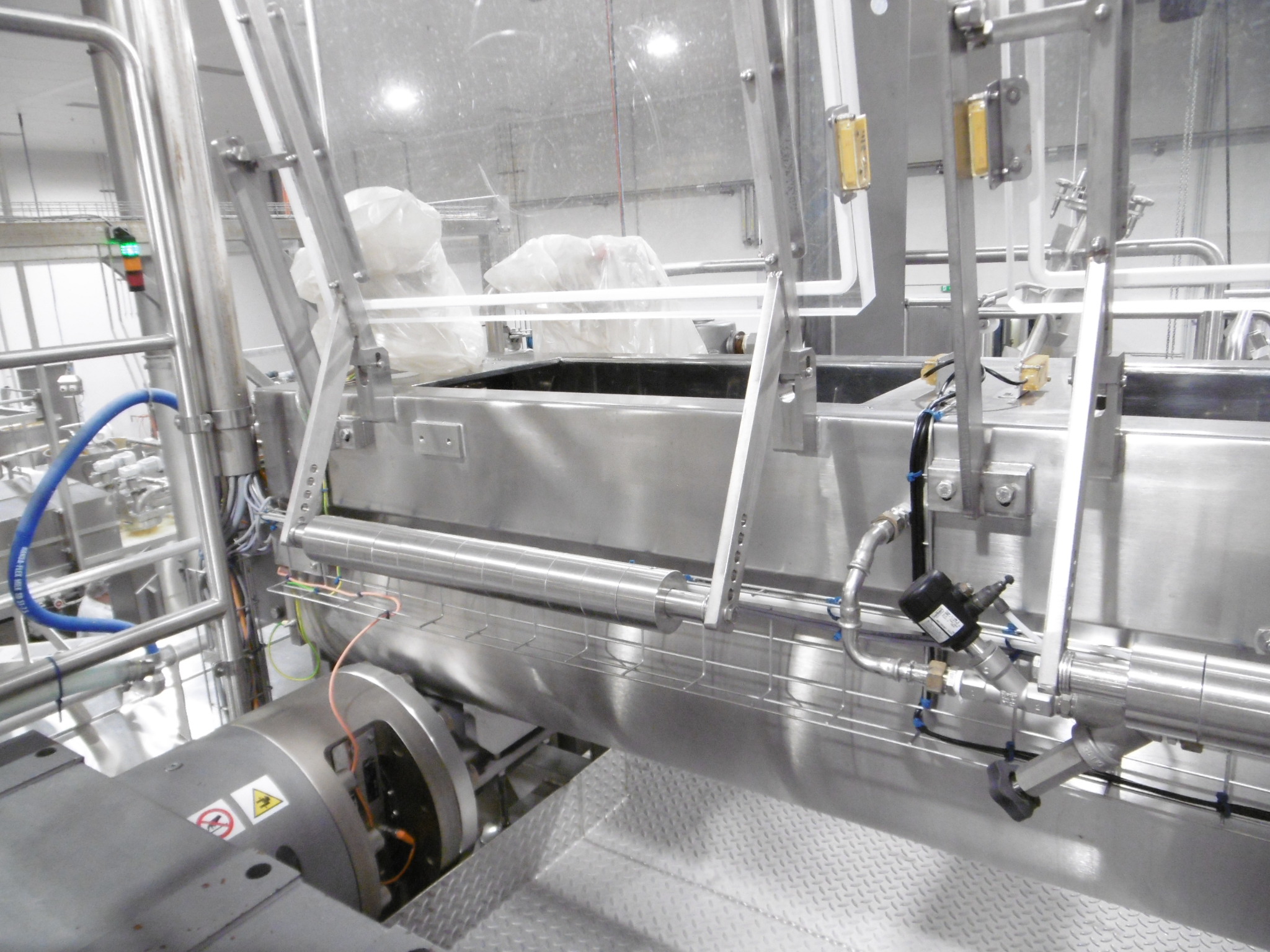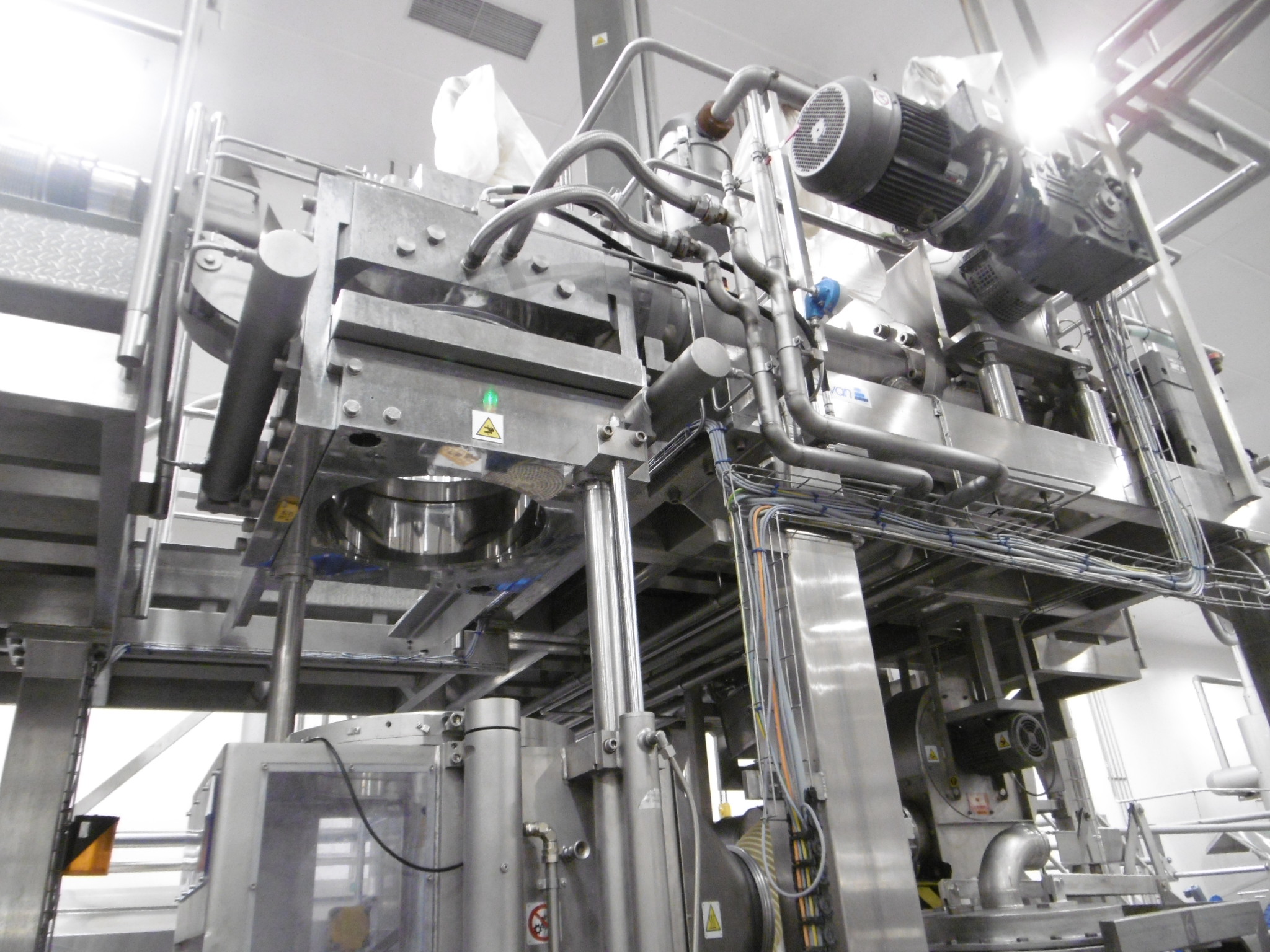 AUTOMATIC CONTINUOUS PRESS IN STAINLESS STEEL  FOR THE PRODUCTION OF FRESH SHORT-CUT PASTA, INCLUDING A DOSING UNIT, A PREMIXER AND MIXING TANK. 
THE EXTRUSION UNIT IS COMPOSED OF ONE COMPRESSION SCREW HAVING A DIAMETER OF 175 mm AND A HEADPIECE HAVING A DIAMETER OF 520 mm.
OUTPUT UP 1.400 kg/h AT THE DIE OUTLET BASED ON WHEAT FLOUR AND WATER DOUGH (pasta moisture around 30%)
Technical and construction features:
Gravimetric type flour doser for macroingredients, with K-tron mechanical componets connected via PLC interface to a PAVAN supervision system.
The doser is composed of:
feeding hopper in stainless steel equipped with a stirrer,
3 loading cells,
dosage and conveying screw driven by three-phase asynchronous motor controlled by frequency converter,
sleeve filter,
rotary airlock (capsulism device) driven by gearmotor with speed variation by frequency converter; vacuum-tight execution.
Flour feeding system and platform to be supplied by the Buyer.
Liquid ingredients dosing by modulating valve and flow meter for flow rate control.
Control of dough water temperature by a three-way mixing valve.
System for the dosage of liquid eggs, including a dosage circuit consisting of a flowmeter and a volumetric pump.
High-speed premixer in stainless steel, driven by a three-phase asynchronous motor. The unit can be easily disassembled for a rapid cleaning of all parts.
Mixing tank in stainless steel. Shaft, paddles and scrapers in stainless steel.  The shaft is driven by a gearmotor.
Safety cover in Macrolon.
Automatic device for dough level control (Radar).
Device for water addition in the dough mixing process with solenoid valve.
The compression unit is composed of:
One three-phase asynchronous motor coupled to a parallel axis reducer complete with thrust bearing.
Speed variation by frequency converter.
One cylinder in stainless steel equipped with a stainless steel jacket;
One compression screw in tempered stainless steel.
Automatic regulation of cylinder temperature by means of a circulation pump, an automatic modulating valve and a PT temperature probe.
Headpiece in stainless steel including a pressure gauge for the reading of the working pressure, equipped with analog output.
Automatic regulation of headpiece temperature by means of a circulation pump, an automatic modulating valve and a PT temperature probe.
Cutting unit hinged to the headpiece for the production of "penne", driven by a gearmotor, with speed variation by frequency converter. Blade holder and blades in stainless steel.
One cutting discks (slant cut).
Headpiece ventilation unit including a centrifugal fan.
Die change device: an automatic system extracts the die in use and inserts the new die for the following pasta shape.
Supporting structure in stainless steel, with stainless steel slip-resistant step-over platform. Access ladder and handrail in stainless steel.
Heating, water and vacuum plants completely connected in the machine up to connection flanges.
Electrical wiring inside the machine.
Main electric controls are repeated on a keypad on the press platform.
Die lifting device including a hoist in steel-it painted steel.
Device for the extraction of the compression screw (jackscrew) and dies.
Set of die filters in stainless steel.
Vacuum plant:
liquid ring vacuum pump complete with motor
vacuum breaker
check valve
vacuum tank in painted carbon steel
decantation unit and automatic valve to open/close the vacuum circuit
reading of the vacuum degree by means of a vacuum meter with analog output.
The press is equipped with:
Motors in special execution (painted and wash-down)
Gearboxes painted in steel-it
Pneumatic components by Festo
2 ROUND DIES
Penne rigate diameter 9 mm with cutting disc.
Fettuccine 6,80 x 1,15 mm
ELECTRIC CONTROL PANEL FOR THE PRESS
ELECTRIC CONTROL PANEL MANUFACTURED IN COMPLIANCE WITH EN 60204-1 STANDARDS. FOR A CORRECT FUNCTION OF THE DEVICES, THE TENSION OF THE POWER SUPPLY HAS TO BE COMPRISED BETWEEN 0,95 AND 1,05 TIMES THE NOMINAL VALUE DECLARED BY THE MANUFACTURER.
Technical and construction features:
Three-phase power supply plus ground wire, without neutral pole.
Stainless steel rack with basement. IP protection degree appropriate for the type of installation.
Forced internal ventilation system (max. allowed temperature of intake air: 28°C).
Three-pole main switch with high interruption power.
Power distribution with bar type system.
Protection against short-circuit and overload by means of magnetic-thermic switches with high interruption power.
Power supply of the auxiliary circuits by means of transformer with electrostatic protection between primary and secondary winding.
Terminal blocks for outer connections.
Wiring with flame retardant cables.
Protection degree of internal components against accidental contact IP2X or IPXXB.
Control system via PLC and touch-screen type operator interface.
PRESS AUTOMATION SYSTEM
Control system based on a PLC and an operator interface (HMI) to respectively control and supervise the entire process.
Main system features
AUTOMATIC PROCESS MANAGEMENT
Automatised production start and production stop. The system provides automatic management of the transitory production sequences, of the cycles and particular sequences, as well as of the synchronisation of the various machines.
MANAGEMENT OF SYNOPTIC PANELS
Animated synoptic diagrams about the controlled plant, with indication of the status of the various users (functioning mode, automatic/manual, maintenance, etc.).
MANAGEMENT OF MOTORS AND USERS IN AUTOMATIC AND/OR MANUAL MODE
The system is set to manage automatically of all motors, but it is also possible to force to manual mode the functioning or stop of each single motor (e.g. for maintenance, test, etc.) 
DISPLAY OF ALARM MESSAGES
Display of active alarms, with indication of intervention date/time and restore date/time for each single anomaly. Also the acknowledgement, restore and plant restart in case of anomaly are carried out by means of the operator interface.
MANAGEMENT OF PRODUCTION RECIPES FOR EACH SINGLE PRODUCT
Each single product can utilise different combinations of process parameters. These parameters are memorised for each recipe and can be loaded and used as set-point values at the beginning of production.
MANAGEMENT OF REGULATION LOOPS
Detailed display of each single regulation PID is possible. The regulation loop can be completely parametered from the relevant menu: setting of low and high limit, threshold alarms, deviation alarms. Furthermore, the PID parameters can be displayed in form of real-time curves, which makes the parameterisation of each single loop extremely easy.
TELEMATIC ASSISTANCE
This package, including hardware and software, allows the connection by modem and telephone network between the plant control system and the Pavan Telematic Assistance Centre. The Telematic Assistance Centre provides complete and efficient diagnostics of both technology and automation system, as process conditions can be monitored during the various production steps. 
The software for plant control can be easily updated.
(connection costs are for the Buyer's account)
The control system is mainly composed of:
PLC Siemens S7-300 inlcuding:
A central unit
digital and analog I/O cards
ETHERNET communication cards
15" PanelPc by Asem
HMI software including:
drivers for communication with the PLC
synoptic diagrams display module
alarms module
-ecipe module
DOCUMENTATION: Operator Manual
VENDOR LIST OF ELECTRICAL AND AUTOMATION COMPONENTS
 

 

Motor control

Siemens

Soft starters

Siemens

Push-buttons

Moeller

PLC

Siemens

HMI

Asem

DC power supply            

PHOENIX

Frequency converters 

DANFOSS

Relays

Finder

Capacitive sensors

IFM

Inductive sensors

IFM

Temperature probes

Endress+Hauser

Safety switches

Jokab

Flow meters     

Endress+Hauser

Safety devices

Jokab

Terminals

WEIDMULLER

Emergency

Pilz

 
 
 
1 DIE WASHING MACHINE MOD. 1R670/M
Technical and construction features:
The structuyre is entirely built in stainless steel or rust-proof materials and plastic.
Washing performance: One round die with diameter up to 630 mm
One high-pressure pump with ceramic pistons:
Max. pressure: 70 atm
Reccommended pressure:  30-40 atm
Max. flowrate:  170 litres/min
15 kW motor with protection degree IP55 against water spray.
Electric control panel.
Electric plant in compliance with international regulation.